Our ophthalmologist, Dr. Syed Ahmad, is pleased to participate in the Brilliant Distinctions Program.
Brilliant Distinctions is a Consumer Loyalty Program offered by the makers of BOTOX®, JUVÉDERM® and Lattise. Points are earned for each Botox treatment. These points can be used to create a coupon that you can apply towards future BOTOX, JUVÉDERM treatments or to purchase Lattise. While you can redeem coupons towards JUVÉDERM and Lattise purchases, currently the program only offers consumers the opportunity to earn points from their Botox treatments.
The wonderful part of this program is that as you continue to receive BOTOX treatments, you will see larger savings.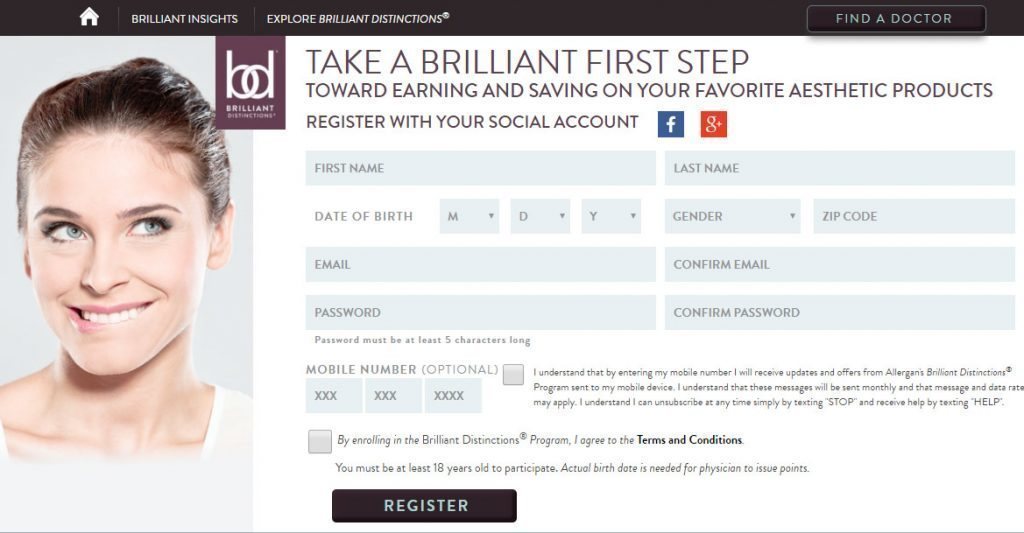 How Do I Register?
Complete the online registration form and click "Finish"
You will be taken to the Brilliant Distinctions Program homepage. Here, you can update your personal information, select "Dr. S. Ahmad" as your preferred physician and view your program activity.
What Do I Have to Do to Earn Points?
To begin earning points with each Botox Treatment, simply register on the Brilliant Distinctions Website. Once you are registered, advise our staff that you are a participant. The program only allows you to earn a voucher one time every 3 months.
How Do I Get Coupons to Use for My Treatments?
Prior to coming to the office for treatment, log onto the Brilliant Distinctions Website and choose "Redeem Points". The screen will show you how many points you have available to you. Make your selection for how many points you would like to use and Click "Create Coupon". Print this coupon and bring it to your treatment. This amount will then be taken off your treatment charge.
Do I Have to Do Anything After the Treatment?
Yes, once you have received your treatment our staff will let the program know that you have received treatment. The Brilliant Distinctions Program will then email you a voucher with the points earned from having this treatment. Please note that there is an expiration date on the voucher. We suggest that you immediately upon receiving the voucher in the email, log onto the website and "bank" the points so that they will be available to you for your treatments. If the voucher is not redeemed prior to the expiration date, these points will be lost and there is nothing our office can do to get them back for you since this is not our program.
Do the Points Expire?
Yes. It is important to realize that the points have not been added to your profile until after you redeem the voucher issued from your treatment. The expiration date of the voucher will be printed on the voucher you receive in the email. Once the points are "banked" the program states that these points will remain active in your profile as long as you have either deposited or redeemed points within two years. Our office cannot make allowances for expired vouchers or points since The Brilliant Distinctions Program is an Allergan Corporation Program. For more information, you can call our Texas Eye & Aesthetic Center team in Plano, Texas at 972-519-9933.
Who Should I Contact With Questions?
Call the help center at 1-888-324-2745